CONCRETE Resurfacing & EPOXY floor services AT THE HIGHEST QUALITY! Serving Apison, TN and surrounding areas!
From pool decks to Basements, from porches to garages, from kitchens to patios. Whether a concrete resurfacing or an epoxy floor Project, let's create something incompatible and inimitable!
We're proud of what we do, and we do it to the best of our knowledge.
Your satisfaction is our number one priority; after all, it is our name that we are laying down.
Our goal is always to produce the best work possible. After all, if you (the client) are not calling us for a referral or a barbeque, it's not good phone call. Offering our floor services at the highest possible quality will ensure just that!
We are happily serving the Apison, TN and surrounding areas! Please check our service areas to see how we may assist with your next project!
Please browse through our work and see which epoxy floor or concrete resurfacing project best suits your needs.
Whether it be inside or outside, "mancave" or garage, make sure to call us for your next concrete resurfacing or epoxy floor project!
Brand new patio? Driveway?
It doesn't have to be ugly and boring.
Allow us to make it stand out and truly bring it to life!
With our decorative concrete service, we'll take that dead looking concrete and make it something truly worth looking at!
Oh yeah, let's not forget, stronger and longer lasting!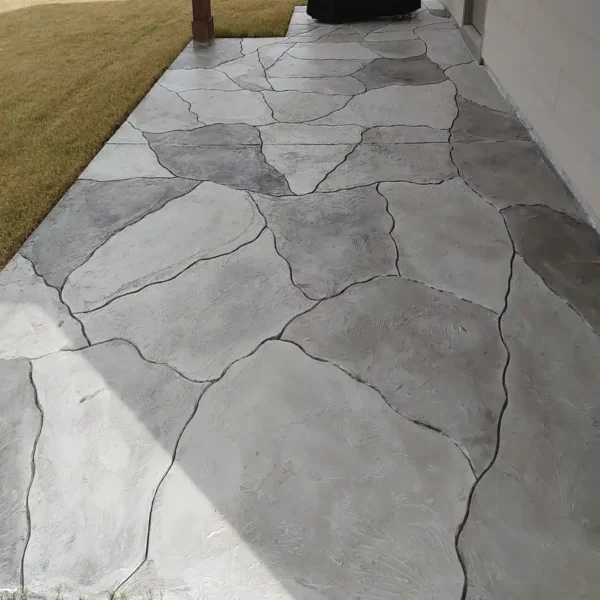 Damaged concrete?
Too many cracks to count?
"Potholes" deep enough to fit a golf ball?
No worries, as long as we can work with it, we got it covered!
Allow us to beautify your slab with our concrete resurfacing service!
We'll take your dull, boring and most likely damaged concrete and not only make it a showcase worthy of being shown, but we'll also make it stronger and increase its longevity!
Odds are, your garage does NOT look this good.
That's why we're here!
Odds are, your garage is not this practical and maintenance free.
That's why we're here!
And I KNOW if the first two were a no go, there is NO WAY your garage is chemical, scratch or slip resistant.
That's why we're here!
With our garage epoxy floor service, we can transform your rusted, cracked and grimy slab into a beautiful, stronger, slip resistant and longer lasting garage that is virtually maintenance free!
And for those that work in their garage (or out of their garage) or want the ultimate package, we can also make it chemical resistant as well!
Our garage epoxy floor systems are also great in heavy foot traffic due to their exceptionally low maintenance and durability!
As good as these floors are though, they are not recommended outside.
Click below to find out why!
Thinking of new floors for your kitchen? Living room? Basement?
Our epoxy floor service may be just what the doctor ordered!
We love our children and pets, but that does not mean our floors should pay the price!
Nor should we be replacing our floors before their time.
Our epoxy floor systems are not only chemical/scratch/slip resistant, but they are also marvelous and drop dead gorgeous!
– Hamilton County, TN.
– Apison, TN.
– Chattanooga, TN.
– Cleveland, TN.
– Collegedale, TN.
– East Brainerd, TN.
– East Ridge, TN.
– Harrison, TN.
– Hixson, TN.
– McDonald, TN.
– Ooltewah, TN.
– Ringgold, GA.
– Fort Oglethorpe, GA.
– Rossville, GA.
– Dalton, GA.
***IF YOU ARE OUTSIDE OF ANY OF OUR SERVICE AREAS, BUT ARE WITHIN 20 MILES OF APISON, TN, PLEASE CONTACT US JUST THE SAME! ***
*** IF YOU ARE OUTSIDE THE 20 MILE RADIUS OF APISON, TN, WE WILL GLADLY DRIVE OVER TO GIVE YOU A QUOTE. WITH THAT SAID, A FUEL CHARGE WILL BE APPLIED. ***
For starters, we keep it simple.
First Sergeant use to always say to us, "break it down Barney-style for me." For those of you that have no idea who Barney is, Barney was a purple dinosaur in a little kids show who always explained things in the simplest of levels.
First Sergeants' point when he said that?
Explain it to me so a five-year-old can understand it!
After all, if you cannot explain it to a five-year-old, odds are, you have no idea what you are talking about.
Second, we ask a lot a of questions.
Reason being?
We are trying to truly understand what it is that you want, in order to get you the best results, for your needs.
We're not going to sell you something you don't need nor will ever use. Sure, we can make a few dollars more, but you as a reference is worth a lot more than the few bucks we would make by upselling.
Third, knowledge of our products. It helps tremendously knowing what goes well where and well, what does not.
Part of the job is to educate you. Why on earth would you let ANYONE do ANYTHING in your house that cannot explain what it is that they're doing, what are they using and why, and how they're going to do it?
Yeah, you wouldn't. And neither would we.
It's really easy to make something sound so simple when you know what you're talking about.
Lastly, we're honest. Yeah, everyone says that. We know.
Give us 5 minutes, we'll prove it.
For starters, we don't say things like "4x stronger than epoxy" or sales gimmick like "lifetime warranty." 
We keep it simple. We keep it real.
And to end this one on high note.
it also makes it really easy to suggest an alternative when we legitimately believe that what you are trying to do is NOT the best option for what you want to accomplish.
Most people do not like to have their ideas shot down, Its human nature, it's in our DNA. However, when you break it down barney style as to WHY that is not a good idea, most people will go "wow, I had no idea. What do you suggest?"
And that's when every point we've just made comes together.